By Lin Dan, Global Service Center for Quitting the CCP (Global Tuidang Center, GTC), 10/28/2022
In the golden month of October, the mountains of Upstate New York glow with the most enchanting autumn colors. On Saturday, October 22nd, the Global Service Center for Quitting the CCP(GTC) organized an End CCP mobile parade, which took a route from New York City through the Hudson River Valley to the Catskills, where the foliage is at its peak. Through the colorful landscape, they spread the call to "End the evil of the CCP", garnering much praise on the journey.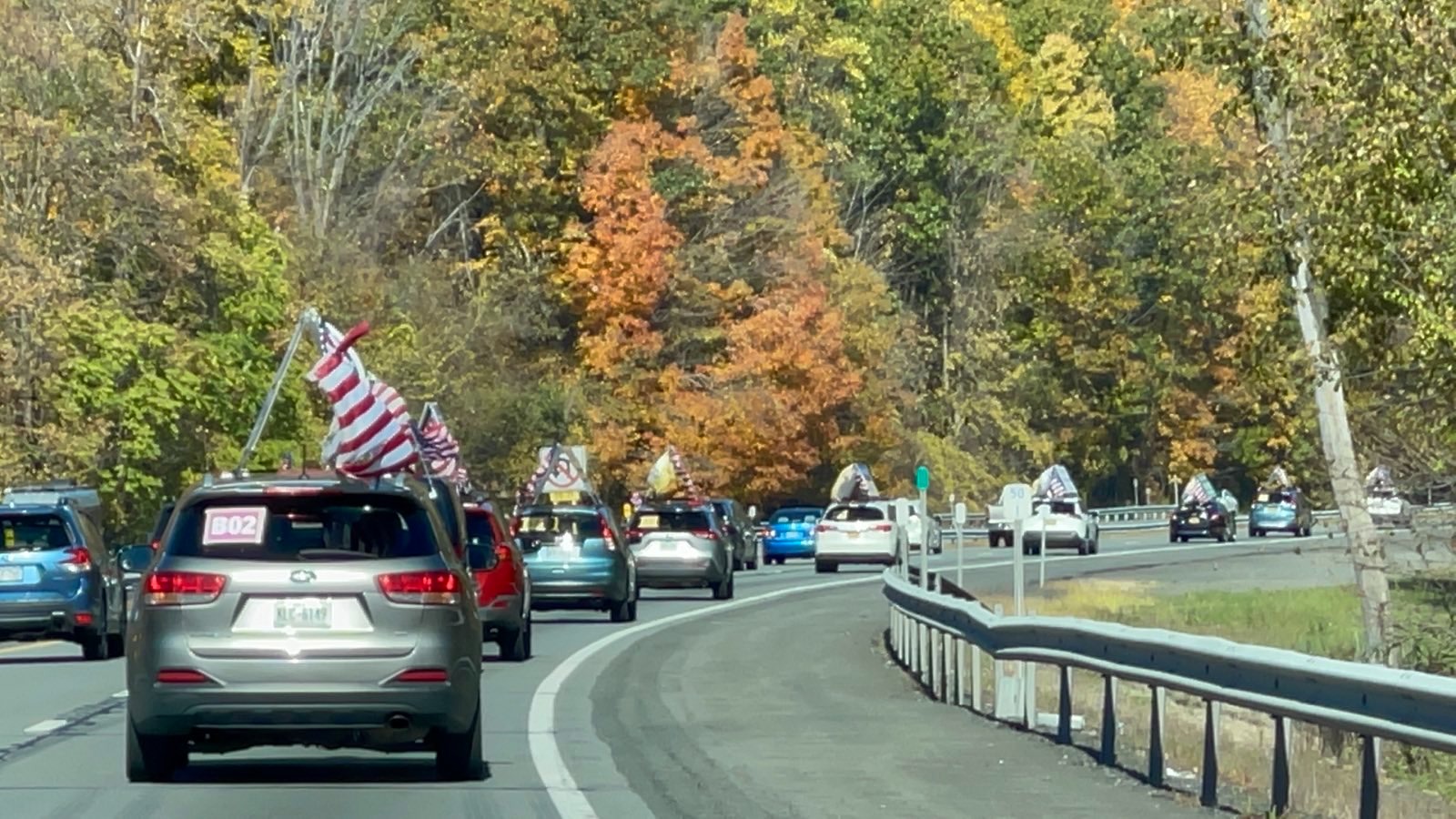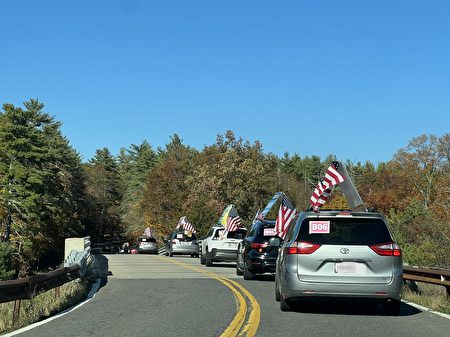 North of Manhattan lies the Hudson River Valley, a mountainous region decked with dense forests. There are 288 thousand acres of nature reserves in the Catskill mountain range. In the third week of October, the colors of the foliage have reached their peak, getting ever more vibrant the further north one goes.
The End CCP parade of nearly 20 cars started in New York City and traveled west from the Bronx through White Plains, taking Route 287 to Route 87, then crossing the Cuomo Bridge and heading west to Suffern; then north through Harriman State Park, Schunnemunk Mountain State Park, north to Kingston, and finally east to the Ashokan Reservoir in the Catskill Park, where the scenery is breathtaking.
The most stunning scenery is along the wooded road near the Ashokan Reservoir, where the trees are dense and the colors of the leaves are rich and intense: gold, goose-yellow, orange, and orange and green at the same time. As the parade moves forward, the beauty of the scenery stretches and changes, making one wonder at nature's great creation.
The Global Tuidang Center organizes End CCP car parades almost every weekend, in order to spread the message urging people to clearly recognize the CCP's evil nature; to stay away from it and reject it, and ultimately bring an end to its rule. After four tours around the country, the team has traveled to all 48 states in continental United States and has gradually become well known, gaining widespread support and praise. Last year, during the foliage season, we organized a car tour to the New England region in the northeast of the United States, which received very good response and achieved a great effect in spreading the message. We hope that more people will recognize the harm of the CCP and communism through the display panels and the message conveyed by the parade, and recognize that it is the divine will to dismantle the evil CCP. We urge everyone to stay away from it.
The End CCP parade, never-ending and with flags waving, has caught much attention and became a sight to behold in the landscape. Each vehicle has display boards with the following slogans in English and Chinese: "Down with the evil CCP, end communism", "Bring down the firewall of China", "Communists lie and massacre, please sign the petition to End CCP ", and other slogans.
This time a new "End CCP" volunteer who is a professor from New York University joined the tour to show his support for the End CCP movement. He said that his ancestors were persecuted by the Communist Party, and he knows the evils committed by the Communist Party. He said, "The book Nine Commentaries on the Communist Party is so well written and exposes the nature of the Communist Party so deeply that I have read every word in it carefully. The Epoch Times is a newspaper that tells the truth."
Along the way, there was a steady stream of cars honking their horns, and people in their cars giving thumbs-up to express their encouragement to the convoy. Patrick Burke saw the convoy in the parking lot and came over to express his solidarity. He said, "I support your organization, you are the first to tell us that we need to recognize the nature of the Chinese Communist Party and that it does not equal China; you are my friends, thank you for telling us this information."