Falun Gong practitioners in Melbourne, Australia, held a march protesting the Chinese Communist Party's (CCP) 23-year-long persecution on July 9, 2022. Practitioners exposed the CCP's crimes against humanity over the past 23 years and called on the Australian Government and the public to learn about the persecution and work together to end it.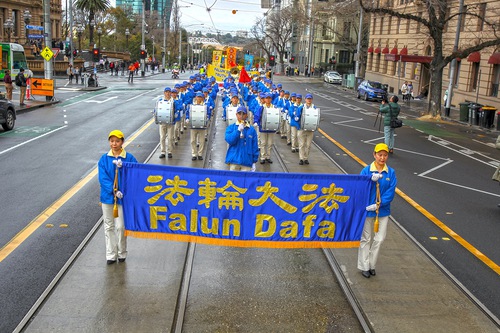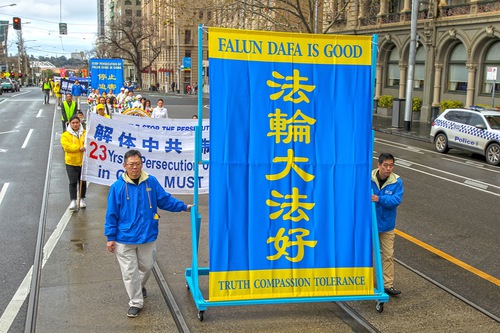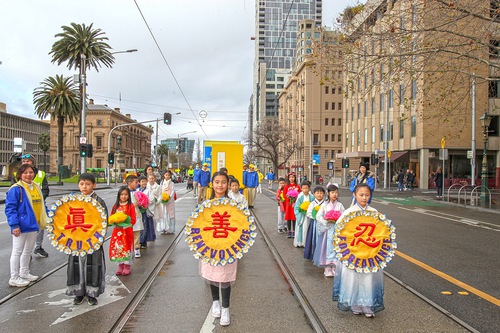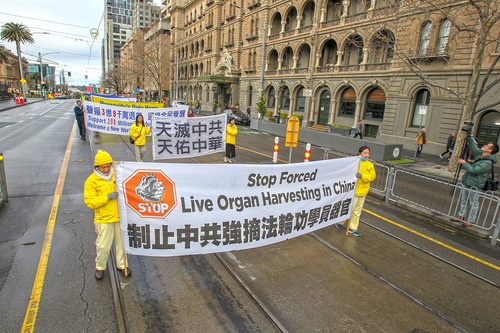 The march was led by the Tian Guo Marching Band and started from Treasury Gardens. It then passed through several major roads in the city center and Chinatown before ending at Federation Square.
The band's music was magnificent, solemn, and inspiring. Practitioners held many different banners expressing key points about Falun Gong and the persecution in China. People stopped to watch and took photos with their mobile phones. Many people accepted flyers from Falun Gong practitioners and expressed their support for Falun Gong. Some people were even moved to tears by the peaceful energy of the activities.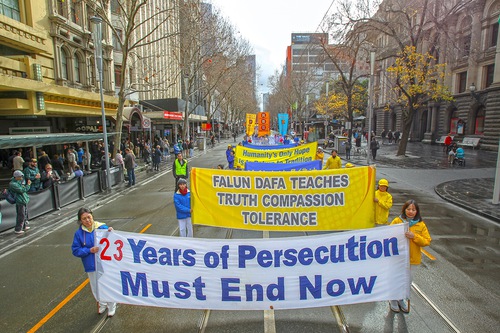 Shaun Webby, who stopped to watch the parade, said that the principles of Truthfulness-Compassion-Forbearance are great, and if everyone followed these principles, the world would become an easy place to live in. He praised practitioners for their efforts to end the persecution, and said they had done an amazing job.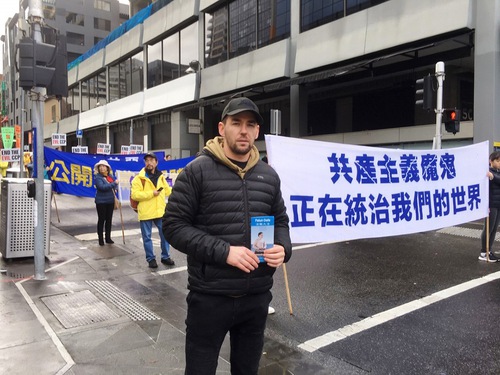 "[This] march has raised people's attention to the CCP's persecution of Falun Gong, which isn't seen in local newspapers," Shaun said. "People don't have first-hand experience with these sad things. So events like this are important and remind people to pay attention."
Webby said that he felt sad about the CCP's organ harvesting from Falun Gong practitioners and admired practitioners' courage. "Organ harvesting is happening in today's era. It's really abhorrent. The CCP is so inhumane. But like I said, these facts are not seen in Australia, so today's march is critical to bring this to light," he said.
When he learned that nearly 400 million Chinese people have renounced the CCP, Webby commended the Quit the CCP movement and said he fully supports it.
The Peaceful Scene Moves Me to Tears
Bernadette, a retired high school teacher, stopped to watch the parade. She said, "The peaceful scene of the march moved me to tears. I think the march was really beautiful. The march expressed the views of Falun Gong practitioners in a very quiet and dignified way."
"The mass persecution of people in China is tragic. It's horrible, especially the live organ harvesting. And one of the ways to stop this evil is to keep telling people the truth. I think the march is very good, impressive, and impactful," she said.
Lanbert stopped to watch the parade and said that he was moved to see Falun Gong practitioners persistently raising awareness about the persecution for so many years.
"I am very sympathetic to the suffering of Falun Gong practitioners," he said.
"Truthfulness-Compassion-Forbearance are universal values. The CCP is anti-faith and is always hostile to any beliefs. The persecution should end. People should help stop it," Lanbert said.
Joey Williams and Lauren Wilson were learning about Falun Gong for the first time.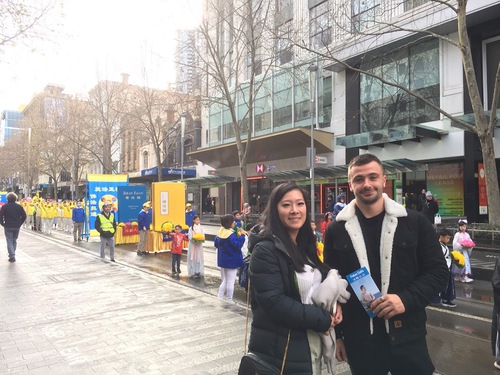 "The march has bright colors and beautiful music, which attracted us," Joey said. "After seeing this march, I searched on the Internet because I had never heard of [Falun Gong] before. I am happy to watch this event and feel good energy."
Lauren praised the march and said, "I am a third-generation Chinese-Australian. There is a large Asian population in Melbourne, so this event is important for people to learn about the persecution in China."
"Although I have a Chinese background, I really don't know much about the persecution. So I think it's really good and amazing to let people know the facts in such a peaceful way, and it will definitely draw more attention," she said.