One thousand Falun Gong practitioners gathered in Chinatown in Manhattan, New York, on July 10, 2022, for a march to protest 23 years of persecution, and to celebrate the nearly 400 million Chinese citizens who have withdrawn from the Chinese Communist Party (CCP) and its affiliated organizations.
After 23 years of persistent efforts to raise awareness of the persecution, more and more people now support Falun Dafa. An elderly man who was selling vegetables on the street spoke to practitioners, and said, "What a great parade! Falun Dafa is great!" When practitioners suggested he renounce his membership in the CCP, he replied, "I have already done so." He then pointed at the man selling wares next to him and said, "He has quit too."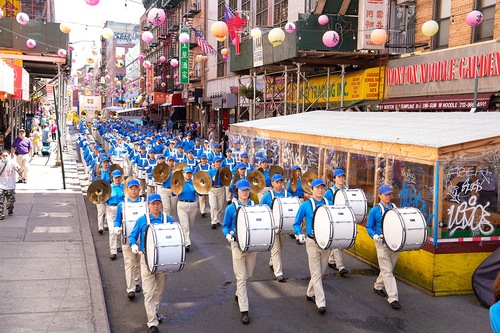 Yi Rong, the chairperson of the Global Service Center for Quitting the Chinese Communist Party, was at the parade. She said Manhattan's Chinatown has more older Chinese migrants and some of them have close ties to the Chinese consulate and have been misled by the regime's lies that vilify Falun Dafa. It is therefore important to show them how amazing Falun Dafa is and to show them the principles of Truthfulness, Compassion, and Forbearance.
Yi Rong said that to date nearly 400 million Chinese citizens have quit the CCP. She said this really is great news and is beneficial for world peace. "We hope the older Chinese migrants in Chinatown rid themselves of the brainwashing by the CCP and realize from watching this parade that many people practice Falun Dafa, including Chinese and Caucasians. Chinese nationals should be proud of Falun Dafa," she said.
Fujianese immigrant Mr. Chen arrived in the U.S. six months ago from Changle. He lived on a street next to the parade route. It was his first time seeing so many Falun Dafa practitioners, so he took some video recordings to show his family. 
"The freedom one enjoys in America is amazing. There are even police officers protecting practitioners during the parade," he said. Mr. Chen said he knew there are still many people practicing Falun Dafa in China, but "this parade is something you cannot see there."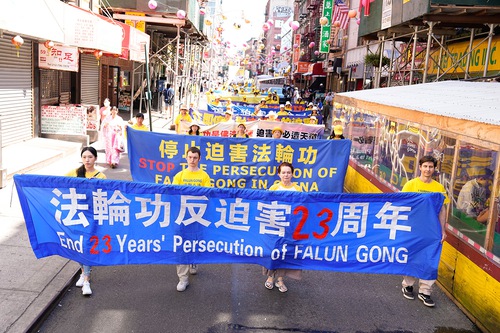 Mr. Liu had come from China to visit his relatives and was filled with emotion after seeing the parade. "This is truly a free society where people have freedom of belief. This is the kind of social environment humans should have," he said.
Mr. Liu said it is greatly significant to China and the world that in spite of two decades of brutal suppression, Falun Gong practitioners continue to stand up against the persecution peacefully.
"They uphold moral values in human society. This group of people who believe in Truthfulness, Compassion, and Forbearance will raise the moral standards of society. Why are there so many people practicing Falun Dafa? It is because they gained the approval of the masses. Because people have kind innate spirits. I hope Falun Dafa can return to China someday," Mr. Liu said.
Many Chinese nationals along the parade route decided to quit the CCP. According to figures from the Global Service Center for Quitting Chinese Communist Party, 208 spectators renounced their memberships in the CCP after watching the parade that day.