A Falun Gong practitioners in Ireland | Minghui
Senator David Norris provided a letter showing his support for the Falun Gong practitioners's parade and rally on in Dublin, Ireland to support the 384 million Chinese citizens who have renounced their memberships in the Chinese Communist Party (CCP) and its youth organizations.
A rally was held outside the Irish General Post Office, a landmark building located at the end of the parade. A number of cars sounded their horns as they drove past the parade to show their support. A resident kept walking over to say to practitioners, "I admire you greatly!" Some Irish people listened to all the speeches at the rally, and then signed the petition to stop the atrocities against Falun Gong.
Noris wrote in a letter to the organizers of the event: "I have always opposed all forms of torture, be it physical, sexual, mental, or racist. I abhor any form of discrimination hence I support everyone of you in seeking fair treatment for your friends and family who are struggling in China. Everyone has the right to freedom of thought, equality and justice. I hope this can be realized through your efforts."
Withdrawing From the CCP is an Important Decision Every Chinese Citizen has To Make
Mr. Zhao, a Falun Gong practitioner, spoke at the rally about the his personal experience of being detained and tortured in a Chinese labor camp, for practicing Falun Gong. He exposed the regime's lies and evil nature with facts. His experience is testimony of the CCP's brutal treatment of Falun Gong practitioners. Worst of all, it includes organ harvesting. Unfortunately, these atrocities continue today.
Ms. Liu, who was the MC for the rally, also introduced the CCP's infiltration in Western society, including it's global ambitions through the "one belt one road" project, "Confucius institute," using economic benefits to coerce Western media and high tech companies to self censor information. Ms. Liu said that Western society should see through the true nature of the regime and stop it.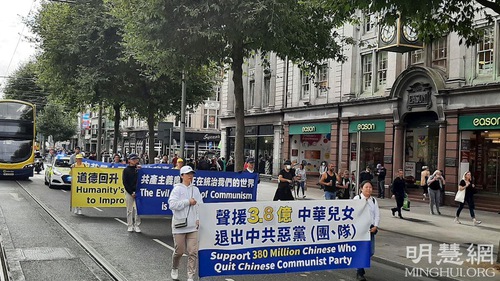 Ms. Liu, who is spokesperson for the Ireland Quit the CCP center, said in her speech, "The CCP has done a lot of bad deeds since it came into power. Every Chinese citizen faces an important decision in choosing whether to renounce the Party. When people's morals decline, gods will punish them through disasters. The current CCP virus is a warning to people to hold on to their kind nature. I hope Chinese citizens in Ireland can seize the opportunity to quit the CCP and be blessed in return."
According to Ms. Liu, more Chinese in Ireland have quit the CCP since the pandemic began, and are willing to talk to practitioners to learn the truth about the persecution. Some even started to visit the Minghui website. She said, "Ms. An, who has been living in Ireland for nearly two decades, renounced her membership with the help of practitioners. She raises her thumbs up when she sees practitioners, saying, 'I support Falun Gong! The CCP has been suppressing Falun Gong for so long, yet practitioners continue to resist the persecution. They are indeed brave and resilient. It is admirable!'"