A correspondent in Queensland | Minghui
Falun Gong practitioners held a candlelight vigil in King George Square in central Brisbane during the evening of July 20, 2021. They sat next to one another with candles to mourn practitioners who were tortured to death during the Chinese Communist Party's suppression of Falun Gong.
Member of Australia Parliament: Punish CCP Officials Through the Magnitsky Act
Mr. Christensen thanked practitioners for their persistent efforts to resist the persecution in China. "I think Members of Parliament and Senators do take the plight of Falun Dafa practitioners very seriously. We have had allegations of human organ harvesting that have a very high level of proof, and that is absolutely a human rights abuse," he said.
"This is very important, very important to be part of the light, a light shining here for those people who lost their lives under the unfortunate suppression of the CCPregime. The Falun Dafa practitioners who were taken and killed, who were organ harvested, this is a crime against humanity and perpetrators of those crimes need to be called out," he said.
"I truly commend everything you have done here. Today, I see portraits of Falun Gong practitioners who were killed for their beliefs, there are even photos of infants. I feel very sad. This regime is so shameful and terrifying. It is a transnational criminal organization," he said.
Vietnamese Community Representative: We Must Stop the CCP from Violating Human Rights
President of the Queensland Chapter of the Vietnamese Community in Australia, Dr. Cuong Bui, is an experienced doctor and an advocate for human rights. Dr. Cuong Bui learned of the CCP's brutal suppression of Falun Gong practitioners in China in 2000. He has been very sympathetic since then, and very supportive of practitioners' efforts to resist the persecution.
"The persecution has gone on for 22 years," he said in his speech at the vigil. "All the leaders in the G7 summit condemned Beijing for its violation of human rights in its treatment of Falun Gong practitioners and Hong Kong citizens.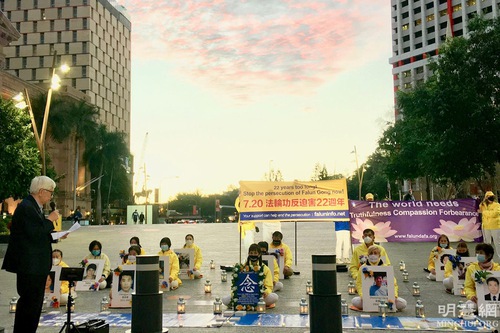 "All G7 leaders agree that the CCP is a very bold security challenge. You can see that during the last 22 years, nobody knows exactly how many practitioners there are who died under the CCP police."
He called on Australians to wake up quickly, because "the CCP is already here, they are already in Australia. Wake up! It will cause a lot of problems to us in the future. They infiltrate our universities even our unions, so they will cause a lot of problems."
Human Rights Activist: Inspiring that Practitioners Hold to Their Principles
Drew Pavlou, a humans right activist and philosophy student at the University of Queensland, spoke at the rally.
"We have seen independent human rights organizations like Human RightsWatch investigate these terrible, terrible crimes," he said in his speech. "There is substantial evidence that the CCP has carried out organ harvesting on a massive scale against Falun Dafa practitioners.
"We are talking about systematic organ harvesting, genocide, systematic persecution, the likes of which the world has scarcely seen since the Holocaust. This is what peaceful Falun Dafa practitioners have experienced for two decades now.
"It is so, so inspiring to see that this group continues to maintain its principles, speak up peacefully against the CCP, resist. They never have given into the CCP's terrible, terrible persecution, even when they have taken family members, tortured people on a tremendous scale, executed simply for their religious beliefs."
Cuban Migrant: Communist Ideology Has Brought Disaster to the World
Mr. Yuniel moved to Australia from Cuba nine years ago. He said he is very sympathetic to Falun Gong practitioners for enduring 22 years of persecution. He expressed admiration and support for practitioners' peaceful, rational resistance.
"Communist ideology has brought disaster to China, Cuba and the world. Cuba has suffered a lot from Communist ideology and socialist rule. Everyone should stand up and oppose Communism, and end its rule," he said.
Not only did he sign the petition, he also asked his wife and several other Cubans to sign it as well.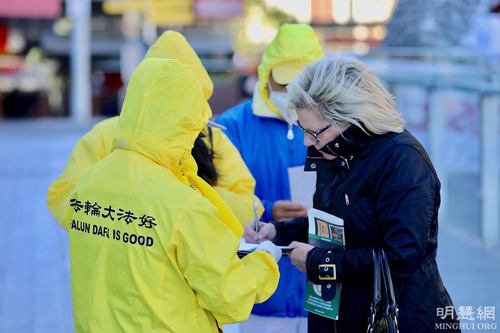 A practitioner named Da Wei told Ms. Seley, a freelance writer who writes columns for newspapers and magazines, about how he and his wife were illegally sent to labor camps and tortured for practicing Falun Gong in China. Dai Wei was shocked with electric batons by six police officers for nearly an hour. His wife's limbs were shackled to a "death bed" for around two months.
The couple were arrested for their belief in 2008, just before the Beijing Olympics, leaving their 17-month-old daughter with no one to take care of her.
Ms. Seley was shocked and furious to hear what Dai Wei and his wife had gone through in China. She said that Falun Gong promotes 'Truthfulness-Compassion- Forbearance,' and the CCP's persecution is unacceptable and must end immediately. She also said the CCP is a threat to the whole world and everyone in the world should reject it.