Minghui correspondent in New Zealand | Minghui.
Falun Dafa practitioners in New Zealand gathered at Wellington, to celebrate May 13th World Falun Dafa Day.
The celebration event this year received congratulatory letters from New Zealand's Action Party, ACT's foreign diplomat spokesperson, Mr. Brooke van Velden, Rotorua's district councilor, Mr. Reynold MacPherson, and Waikato's district councilor, Ms. Kathy White.
In the letters, the government officials expressed their support for Falun Dafa, and acknowledgment of Falun Dafa's principles of Truthfulness, Compassion and Forbearance. 
Falun Dafa Taught Me to Become a Better Person
Ivy Guo was born in the 1990s and started to cultivate in Falun Dafa when she was in senior high school. "Before cultivating my body I experienced problems. I often had migraines and I caught the flu easily. I was taking all sorts of Chinese and Western medicines and health supplements to improve my body's unhealthy state. However, not long after cultivating in Falun Dafa, all the discomforts in my body disappeared. I truly experienced having a light body that is free from illnesses."
Now, Ivy practices the five Falun Dafa exercises every day. "Falun Dafa not only cleanses my body," she said, " it keeps guiding me in how to become a better person. In my daily life and work, I try to practice the principles of Truthfulness, Compassion and Forbearance.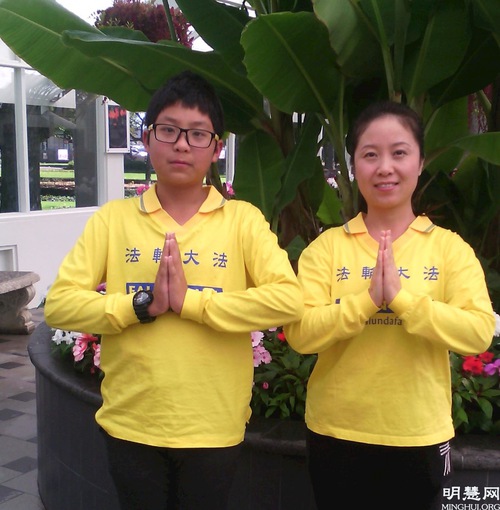 Xiao Xue is over 30 years old. She came from Hunan, China. She said that in the past, she kept believing in the propaganda about Dafa by the CCP. "Falun Dafa practitioners are actually kind people who do not take lives", she said. Therefore, she quit the Communist Youth League. She said that she felt especially tranquil and nice when she is near practitioners, and she wants to share what she has seen and heard here today with her family and friends.
A tourist from Australia said that he heard about Falun Dafa in Australia. He knew about the persecution of Falun Dafa that is happening in China. He felt that Falun Dafa practitioners are really terrific. They are always peaceful and rational and they never give up.