After over two months of lockdown to control the Chinese Communist Party (CCP) virus, restrictions in parts of Freiburg in Breisgau, a popular tourist destination in southwest Germany, were lifted. The city began to regain its vibrancy as shops large and small resumed business. Due to the limit on customers in shops, long queues were spotted outside shops everywhere.
Falun Gong practitioners in the Black Forest region held an information day in Freiburg on Saturday, March 20, 2021, outside the library of Breisgau university. An endless stream of people stopped to read the information on banners, Some took brochures intending to pass on information to more people. as well as talk to practitioners to understand more about the practice and the persecution in China. People signed the petition to bring an end to the brutalities.Others asked where they could learn the exercises. A few Chinese people agreed to renounce their membership in the Chinese Communist Party (CCP) and its youth organizations after learning the facts about the practice.
Some people commented that they saw the banners with the message: "End the CCP", "Stop the persecution of Falun Gong" from afar, as they were very eye-catching. They walked up to the information booth and had deep conversations with practitioners. They also asked to sign the petition to express their support.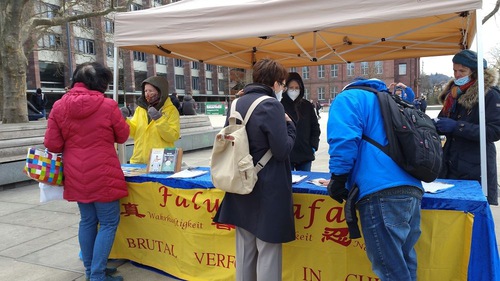 The weather was cold in the morning and there were few people on the streets. Two tall German men riding bicycles stopped in front of the banner with the words "End the CCP." After a while, a practitioner approached them. They said it is indeed time to end the CCP because they are an abomination. Only then can the persecution be stopped. "They started this global pandemic. Now is the time to end the CCP. You have done very well. We support you," they said after signing the petition.
Ms. L walked up to the table to sign the petition. She said she and a number of people around her used to be drawn to the Communist ideology practiced by Karl Marx. Later on, they discovered that these were lies! The truth exposed by historical records from the former Soviet Union and East Germany was revolting. Now, the CCP is persecuting good people who hold a belief with different views. They even remove people's organs without their consent. This completely got rid of any illusions she had about Karl Marx and communism.
Mr. Y a local resident from America said: "I know the CCP is lying. I was traveling in China after the June 4th student massacre. Many people in Shanghai and Xi'an were suppressed by the authorities as well. Yet until today, the regime has not reported on such deaths. I notice that the CCP is exerting its influence overseas. Aren't there a dozen Confucius Institutes in Germany too! They are very active."
Mr. Admlk said: "I learned about the persecution of Falun Gong from media reports. I heard about organ harvesting but I didn't realize it was so serious. I will tell more people." He asked for information on the subject.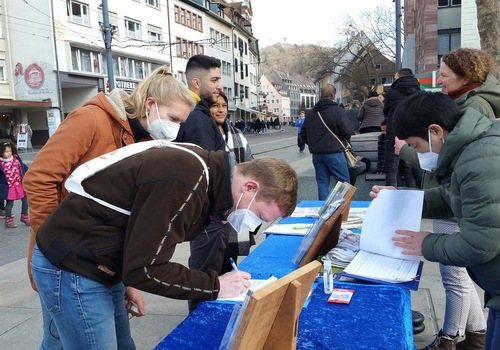 Chinese People Quit the CCP
A Chinese woman walked past the information booth. She said that she joined the CCP when she was studying at the university. After she moved overseas a decade ago, she has not been in contact with the organization. Furthermore, she did not believe in what they say. When practitioners explained to her the significance of renouncing her membership, she agreed to cut off all ties to the regime.
"I saw the Chinese characters on the banner from a distance," said a female student from China who left the country not long ago. She read the information on Falun Gong. She told practitioners that her teachers mentioned the spiritual discipline in classes on politics, but she had no clue what happened. She asked if the information on the persecution displayed was true. When told not only was it the truth, the actual situation is even worse and this has been going on for 21 years, she did not say anything more. The practitioners asked if she would like to quit the CCP, and she agreed without hesitating.
A student who spoke fluent Chinese stood reading the information boards for a long time. He said he was a minority ethnic group who escaped from Xinjiang. However he can only speak Chinese because from a young age he was not allowed to speak or read his native language in China.
His grandmother was reported to the police by neighbors because she recited scriptures at home and was subsequently arrested and taken to a reeducation camp. Due to her old age and illnesses, she was released after her family spent money bribing officials. He considered himself fortunate to escape from the country before 2015. It is difficult to leave China now, and perhaps he might be a victim of organ harvesting because many young people have disappeared after being taken to reeducation camps. He said he heard about the CCP killing people for their organs, but he believes they do that to people in Xinjiang too. According to him, there are passageways transporting organs at the Urumqi airport. There wouldn't be that many people in Xinjiang needing organ transplants, so these organs must be sent to other parts of the country.
The student said: "I went to many places in Europe and saw similar peaceful protests held by Falun Gong practitioners everywhere. These activities are held in busy areas in cities or tourist spots, and the impact is huge. You don't speak or act aggressively. Therefore, governments in a number of countries trust you and allow you to hold protests in the busiest places in the city. I admire you and am touched by what you do.
In China, many people are persecuted by the CCP, but none resist the regime like you, including us, minority groups in Xinjiang. The CCP isn't afraid of sparring with you, they are great at behaving like hooligans. They are just scared of the truth being exposed. You are doing just what they are most terrified of. This will awaken the conscience of many people and everyone will act to knock it down. Therefore, I think there is hope in China. The CCP will surely be eliminated in this most effective form of resistance."
He gladly renounced his membership in the young pioneers and youth league.