Volunteers in the San Francisco bay area held a car parade in Hayward on March 6, 2021 to expose the Chinese Communist Party's (CCP) persecution of Falun Dafa practitioners in China.
Lili, who often take walks in the park, told the volunteers, Falun Dafa practitioners, she was a Christian and many Christians are persecuted in China. After reading a brochure about the organ harvesting, she said, "I've heard about this. The CCP is terrible. How can they do something like that, taking people's organs and killing them. It makes me feel very sad. I hope the U.S government will end its relationship with the regime."
Ms. Guo, who lives in the southern bay area, participated in the car rally. She explained that the cars would drive through Hayward, Newark and Union City that day. The event was held to inform people about the brutalities committed by the CCP, and encourage them to reject communism.
Ms. Guo said that practitioners came up with the idea of holding car parades after usual parades were banned due to the outbreak of the CCP virus. The car parades, which are held every week, have been very effective. Every time, people take photos and give practitioners a thumbs up. "The last time we held a parade in San Jose a Westerner shouted: 'The CCP is bad!'" Another man said: 'You should have done this sooner. We hope the CCP will collapse quickly. We don't want it to expand to the West.'"
As practitioners were mounting the signs on the cars, a man who lived nearby walked past and gave them a thumbs up. He said, "I oppose the CCP. I support you in exposing its atrocities through the car rally. There is a female coworker at my workplace who came from China. She dislikes the CCP as well. The CCP does nothing but bad things, even sending female spies to seduce members of congress in my electorate." He was happy to accept some printed information.
Communism Threatens Everyone
Kiros Ghimay, a technician from Africa, said he followed the cars in the rally. "I like the beautiful music you play. I wish you success," he said.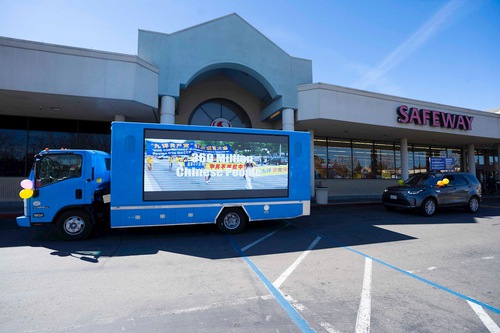 Kiros said he loved seeing the car parade. "I dislike the CCP. They are also in Africa but they are not popular. We hope it will collapse, not only in China but everywhere in the world. The CCP must stop doing bad things," he said.
Kiros asked about Falun Gong as he saw a sign mentioning the spiritual discipline on a car. When he learned that it is a form of cultivation practice based on the principles of Truthfulness, Compassion, Forbearance, Kiros said he agrees with these values. He added, "I like Falun Gong."
When he learned about the persecution practitioners in China are subjected to, he said, "That's why I don't like communism. It is a threat to people everywhere."