Dan Lin | Epoch Times NY
On February 1st, heavy snow and strong winds hit the New York metropolican area. The local government issued a state of emergency restriction in response to the severe winter storm. Despite the weather, a group of Falun Gong practitioners in Flushing, Queens—home to the largest Chinese community in New York City—maintained two "truth-clarification" booths open to the public. The practitioners, standing in the heavy snow, are handing out flyers and providing Quitting CCP (Chinese Communist Party) service (aka "Tuidang service"). to the public.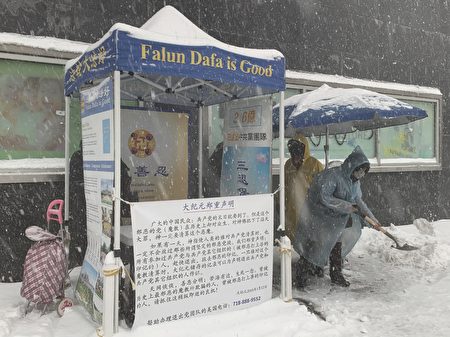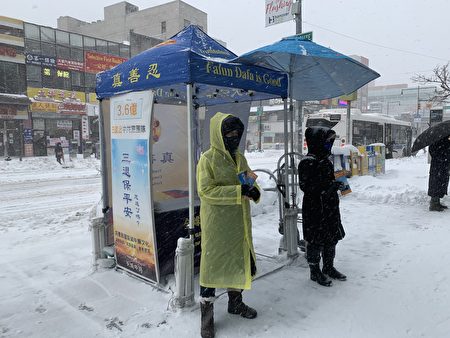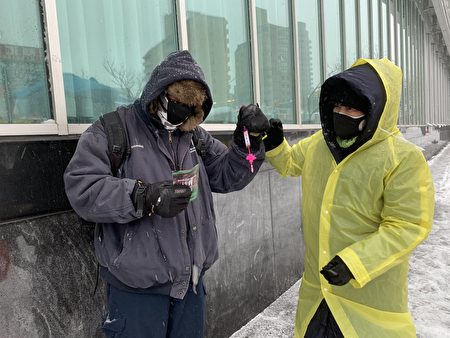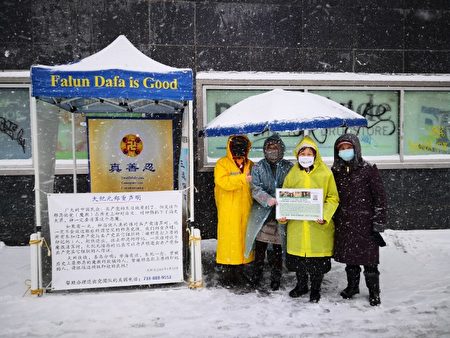 Severe weather does not stop Falun Gong practitioners from informing people about the facts of Falun Gong and the Chinese Communist Party's (CCP) persecution of the spiritual practice (also known in the Chinese American community, as "truth clarification"). Falun Gong practitioners have been suffering from persecution by the CCP for more than 20 years. A Tuidang ("renouncing the CCP") and truth-clarification site opened at 10 am as usual. For more than a decade, the truth-clarification and Tuidang site in Flushing has always remained open, regardless of weather conditions.
"Can't you stop for just a day due to the heavy snow?"
When asked why she did not stop informing people for just a day to escape the bad weather, Falun Gong practitioner Xiaofang Guo said: "I feel the time is very precious, we should take every minute as an opportunity to clarify the truth to people around us. The pandemic is here, and it is humanity's calamity. Many people are in danger. We need to pass the message that 'Falun Dafa is Great' to everyone around us."
Seeing Guo standing in the snow, a passersby told her: "You are very nice, you are very beautiful".
"I hope others can also benefit from Falun Dafa"
Falun Gong practitioner Lijuan Zhang used to suffer from hyperplasia, but after starting to practice Falun Gong in 2003, in just 2 months, her suffering ceased. Initially, her doctor could not believe it, but after a thorough examination the doctor encouraged her to tell other patients to follow her suit.
Lijuan has been raising awareness about Falun Gong and the CCP's persecution of the spiritual practice since 2015, nonstop.