Global Quitting CCP Service Centre
Falun Gong practitioners held a large scale parade in Toronto's town center on Nov. 14, a beautiful sunny day. Locals took to the parade with a warm welcome, agreeing that the Chinese Communist Party (CCP) is the root cause of the world's chaos and troubles, and it must be eliminated.
The parade set off from Clarence Park around 1 p.m. led by the Tian Guo Marching Band. Sections followed featuring banners that read:
• End CCP
• Three Withdrawals
• Falun Gong Exercises Demonstration
• Stop the Persecution, and
• Falun Dafa is Good.
Waist drum performances followed. The parade moved along Spadina Avenue and passed Chinatown, Dundas Square, and back to where it began.
The music band, waist drum performances and huge banners including "Eliminate the Evil CCP, Choose integrity and Conscience" were welcomed by onlookers who singaled with a thumbs up or sounded their car horns in support.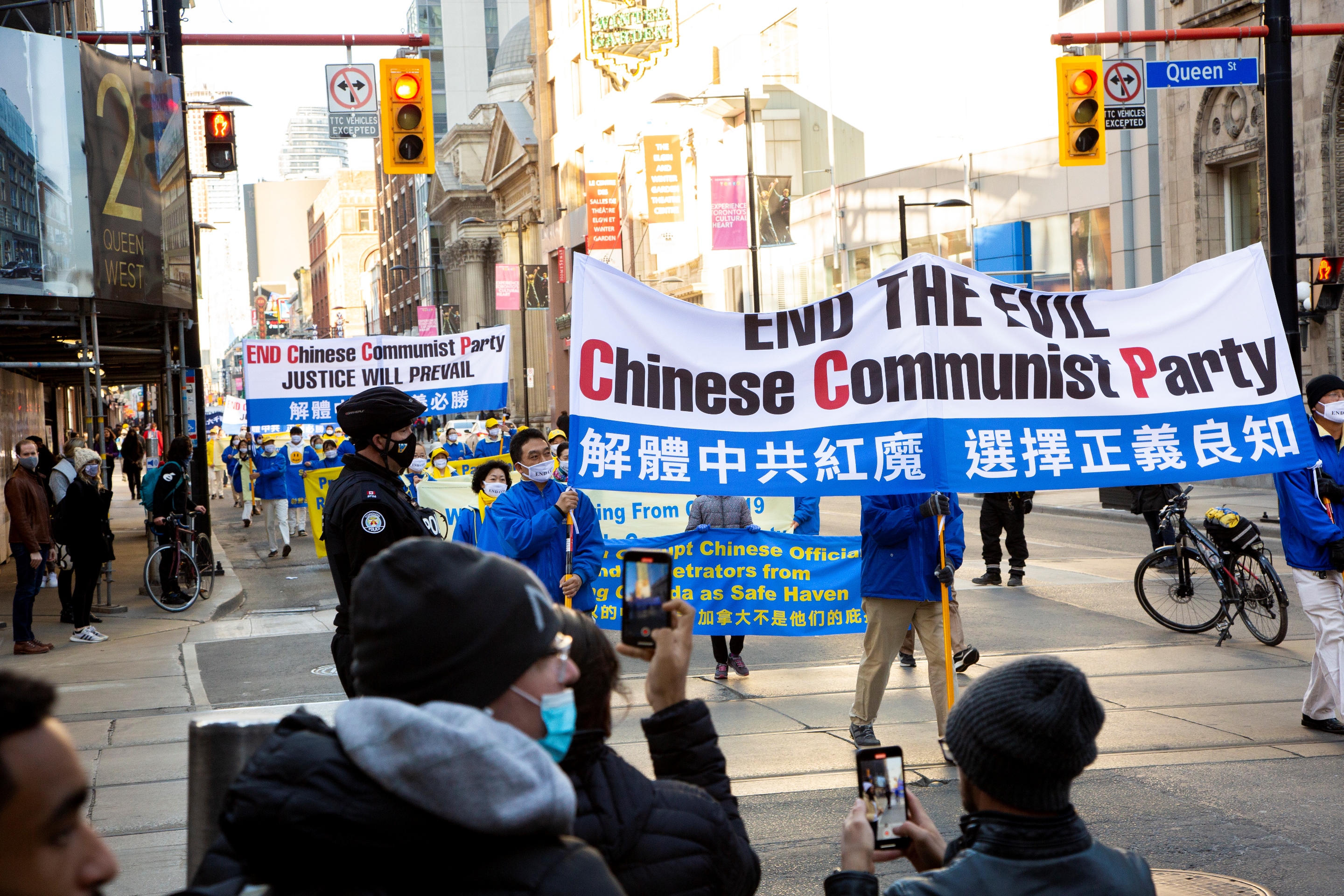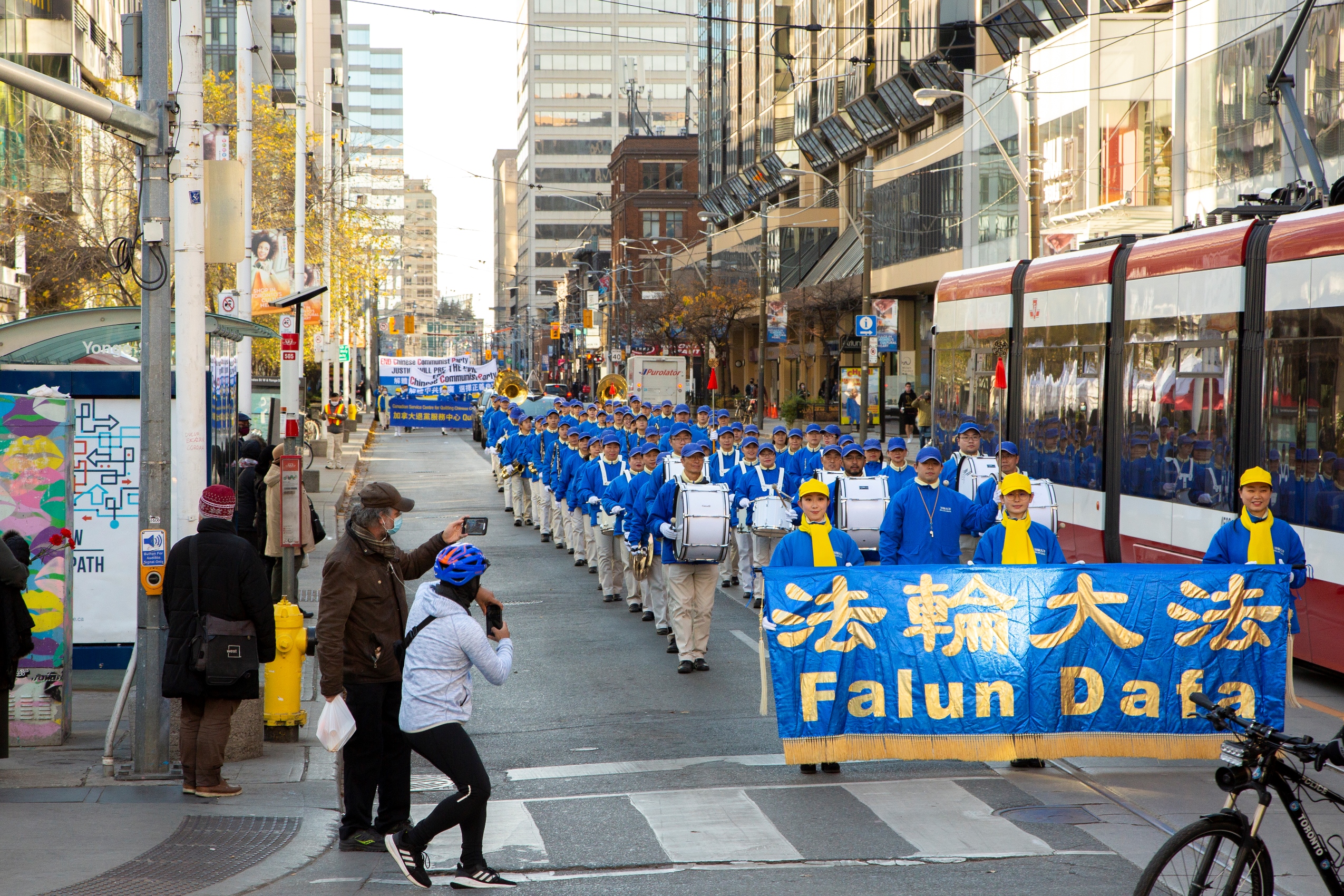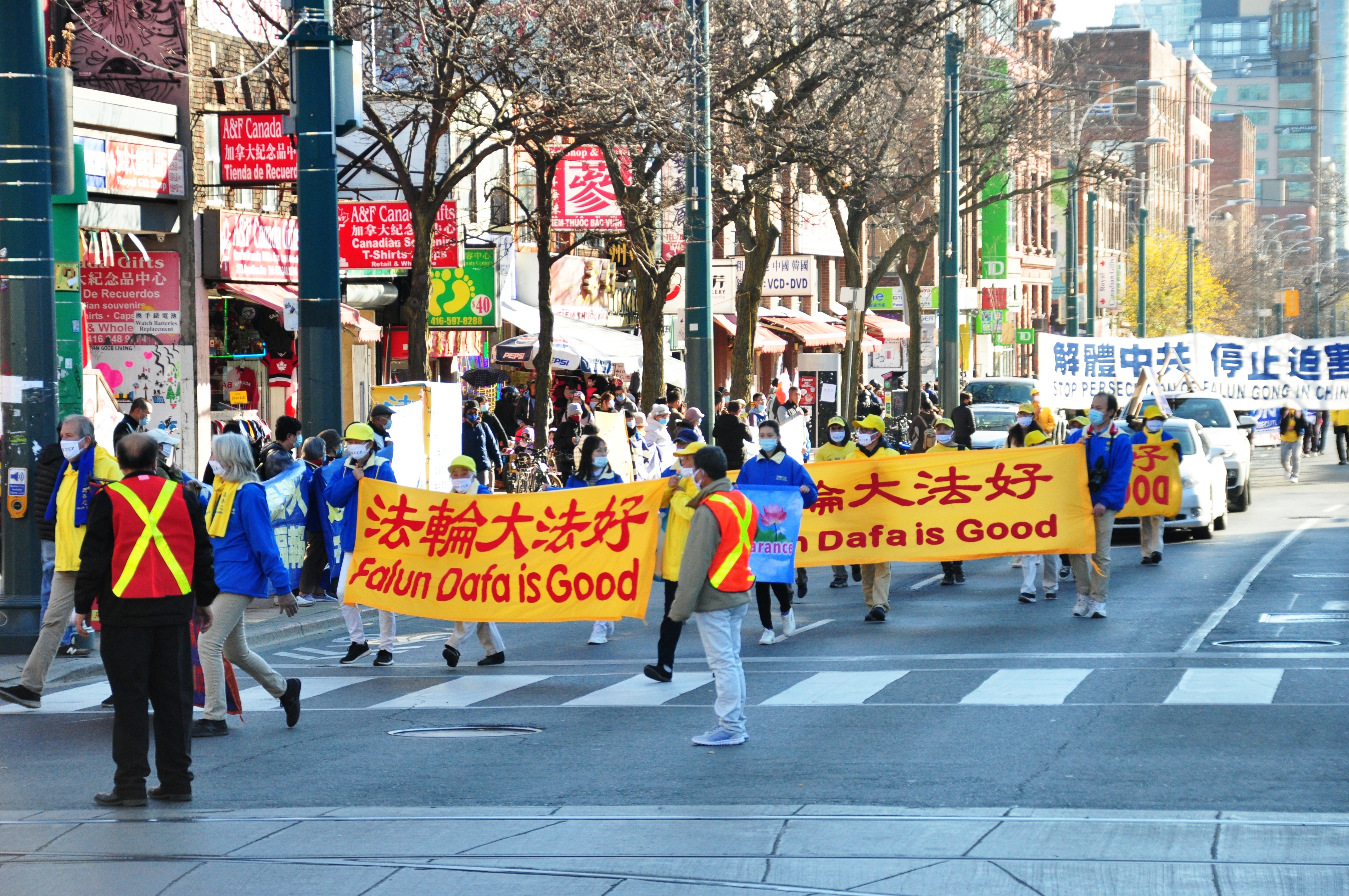 Residents Applaud to show their support
A separate rally was held at Dundas Square to protest lockdown measures in the region. It coincided with Falun Gong practitioners' "End-CCP" march. As the parade passed by, those at the other rally made way for Falun Gong practitioners to proceed through, and they chanted, "Freedom, freedom, freedom."
A participant at the anti-lockdown rally pointed to the parade and asked, "Why don't we do it together? The more people who help, the faster we can end the CCP."
Others commented on how they liked The Epoch Times, which was founded by Falun Gong practitioners. They said, "The Epoch Times is good, reliable, trustworthy," and "mainstream media is lying."
A man commented, "The majority of the mainstream media outlets are either pro-left or pro-right. If you don't agree with them, they will attack you and scold you. But The Epoch Times is neutral, and it does not condemn or blame anyone."
The locals continued to wave at the parade until they disappeared.
Resident: CCP must end
As the parade passed through Chinatown, a lady named Marica who was with her daughter was taking videos of the procession.
Marica explained to her friends that she had just arrived back from China. She shared that she and her husband have been teaching there for 6 years, and that she knew a lot about China.
She pointed to parade and said, "I know all this, I know what [Falun Gong practitioners] are doing and I support them. The CCP is very evil. People [in China] do not have freedom at all. They cannot express themselves freely. They can't even use the internet without censorship. My husband and I are unable to use Facebook and Twitter."
To avoid unnecessary trouble, the Global Quit the CCP Service Center did not take a photo of her because her husband is still in China.
Zarik, a nuclear engineer, and his wife Anika, a real estate agent, watched the parade. They gave thumbs up to the parade while taking photos.
"We support the elimination of the CCP," Zarik said. "I know the CCP, it is a demon. It does not only persecute Chinese people but also all over the world, including Canada."
Photo: Zarik, a nuclear engineer, and his wife, a real estate agent, watched the parade.
At Dundas Square, a man said, "What is most important is that the country is losing itself, so to wear a mask or not is not that important."
The man, a Westerner who wished to remain anonymous, added, "Canada today is not the Canada before. Now the country is rich but its people are poor.
"The root cause of this is the Communist who has controlled Canada. Communism has infiltrated all levels of the government and society. Of course, the CCP is the one who did this.
"Our people need to wake up and stand up, otherwise our country will go off track," he added.
At the end of the march, an immigrant from Taiwan, who requested to remain anonymous, commented that his family has a military background in Taiwan so he has to be very careful when calling back and he cannot speak to them for too long.
Why it has become like this? It is the CCP. He said he wasn't influenced by any media but from his own judgment, that "It is a must to end the CCP."